Why are some tints so cheap while others have a much bigger price tag? Should you be paying a bigger price for the best window tints for your car window, home window, or office windows? We put some quality tints against some cheaper tints to see if there really was a difference.
Do you go for the cheaper tints that promise to do what the quality tints can, or do you play it safe with quality tints that are guaranteed to deliver you the results you want?
We also asked a few tinting professionals to comment on the connection between price and quality of tinting films:
1. UV ray and heat rejection
A good window film offers 99% UV ray rejection and blocks heat from entering for a cooler car, home, or office. While cheaper tints may also claim to provide this, the effect often runs out after a few months and you'll be back to square one where you have to suffer from the heat and UV rays emitted from the sun. Don't risk the comforts of you and your family – tints of higher quality may be a little pricier but they can last you a lifetime of UV ray and heat rejection with proper care!
2. Bubbles and delamination from poor workmanship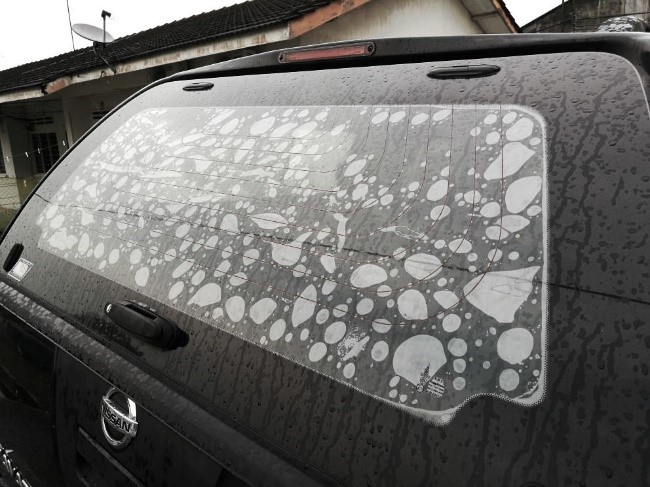 Cheap tints often come with poor workmanship. When choosing window tints, it's important to consider not only the product quality but also the skill of the tinting technician. Poorly applied window film can peel off by itself and bubble under heat. Go to a trusted window tint installer from the start for a safer and more comfortable ride – guaranteed.
3. Blurry view

Let's face it – cheap films are not as clear as high-quality films. After short term usage, chances are they will turn blurry, highly affecting your visibility and safety on the road. This is a common occurrence in cheap tints and endangers the lives of you and your loved ones and you'll even have to spend more just to have your car re-tinted all over again. So why risk you and your loved ones when you can just get a one-time hassle-free window tinting experience?
4. How long will my window tint last?
Cheap window films made from poor-quality materials expire faster especially under constant and direct sunlight. They can start fading and become less efficient in blocking heat in mere months while quality films can last for up to 10-15 years with proper care. Cheap tints are also prone to disintegrating and flaking off during removal, much like melted plastic that cracks after being exposed to sunlight. This results in a tough removal, and your windows may get scratched in this process.
5. Aesthetics matter
If you thought of tinting your car windows, home windows, or office windows for the aesthetics it brings, then it's good to know that cheap tints often discolour into blue or purple hues after being exposed to sunlight for a short period of time. These discolourations may not be even, often appearing in splotches at random spots. The better choice? Picking high-quality films that maintain its colour and sleek look even after years of sunlight exposure.
5. Warranty period
For most car, home, and office owners who have finally decided to have their windows tinted, it's very important to know the duration of warranties your window tint carries. Most cheaper tints may offer you only a year or 2 of warranty because they're not too sure it could last that long, but higher-quality tints that can last you a lifetime would carry up to a 10 year* guarantee because that's how confident we are with the product!
Conclusion
While it may be true that cheap tints are easily purchasable, quality tints are much better in the long run. With hassle-free applications and better technology being put into the manufacturing process, you'll know it's a tint that offers you a peace of mind.
Still undecided if you want to save a couple of bucks on cheaper tints vs paying a little more for higher-quality tints that can last you a lifetime? Drop by any of our branches to test the heat rejection yourself in our demo room. We guarantee you will feel the difference! You can find Winshield Window Tinting in SS2 Petaling Jaya, Puchong, Glenmarie Shah Alam, Cheras & Subang Jaya. Call 03-7877 1433 to find out more.